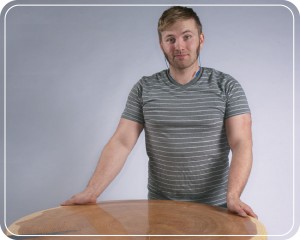 Hi, I'm Tristan!  I'm a native Minnesotan and a 2009 graduate of Minneapolis College of Art and Design.  When I'm not designing and building all the awesome furniture you see here, you can find me taking photographs and riding motorcycles.
My furniture practice centers on honest treatment of material and a balance of stability and motion.  The materials guide me to understand the limits of design, where principles of motion, tension and balance are employed.  Just as my furniture is imbued with the ability to move with the user, the forms are also inspired by the user's movement and physiology.  Ultimately, by defining the level of interaction, I want my customers to create the opportunity for each piece to function beyond the normal reach of its design.
In addition to dreaming up and building originals, I'm happy to work with architects, interior designers, and homeowners to execute a collaborative vision.  My primary mediums are steel and wood, but I love to explore new materials.
Please feel free to contact me with comments/questions/showers of praise/work inquiries.
651.206.1821